Southampton Business School students can access a wide range of support to help you to develop study skills, improve your academic English and enhance your employability.
Academic and Professional Skills for Business' (S4B) is a specially designed optional support course, which is free of charge and available to all Southampton Business School students. The course is designed to help you prepare for success in both your degree and future employment. Study plans are available but it is up to you to decide how you participate in S4B workshops and lectures, S4B tutorials (in which you can discuss your work), and S4B self-study resources. S4B activities include support for writing academic and professional texts, speaking with confidence in presentations seminars and business negotiations, improving your academic and business vocabulary, and preparing for examinations and your future career.
You can access S4B online at: www.go.soton.ac.uk/s4b
We hope you find S4B useful. Please feel free to contact us via English-SBS@soton.ac.uk or check us out via the 'Contact' page on the S4B site.
LIBRARY INDUCTION ACTIVITIES: a range of activities are available to help you to use the library. We recommend new students visit this page and complete the activities as this will help you to use the library effectively for your studies.
Siân Furmage is the Academic Engagement Librarian for Southampton Business School. For more information on how to use library resources to support your studies then visit your library subject page: http://library.soton.ac.uk/business
Or contact the library by email (libenqs@soton.ac.uk); phone (023 8059 2180) or Library Chat (http://library.soton.ac.uk/home/enquiries – check opening hours).
You can also refer to this handy library guide; Library_Guide_the basics_17-18
Library Exam Support
Opening hours: Hartley will be open 24/7 throughout the exam period, check the website for other libraries
Study desks: students can pre-book study spaces during this period. Bookings are available throughout the year
Extra study rooms: four extra study rooms in Hartley will be kept open throughout the exam period for quiet study (4075, 4077, 3009, 1009).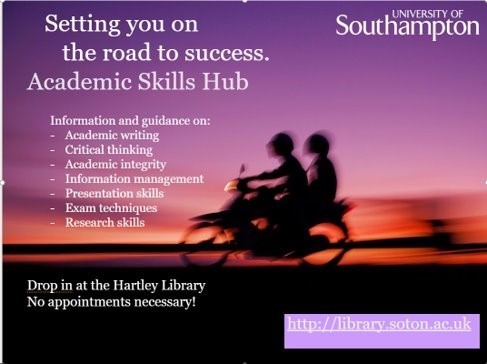 Academic Skills: At Hartley the Hub will continue to be open 10:00-16:00 weekdays, weekdays no appointment necessary, and can offer practical advice about exam techniques.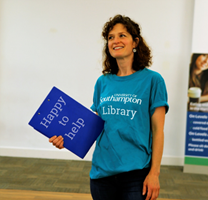 'Happy to help' Library staff will be busy about the library answering questions and offering support to students throughout the exam period.
A large whiteboard in the Foyer area as students come into the library will be promoting which of the library floors have available study spaces. Floor walking staff will check & update this as necessary at the end of their sessions.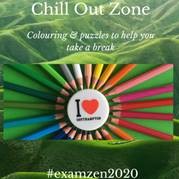 Chill out corner there will be spaces at Hartley, NOL, HSL and L&LC libraries to take a break from study with puzzles and assorted colouring to do. Hartley and NOL will have giant colouring posters.
The Lattes Café at Hartley will be open longer hours for students to take a break and recharge.
Student Life return to Hartley to help support students from 18:00 each evening. They can provide support, signpost and refer students to services, and give helpful exam tips. Every Wednesday between 19:00 -20:00 there will also be Student Support Drop-in sessions. Students can meet with a trained advisor to talk through issues that are affecting them.
Enabling Services will be offering Brew Monday on 20th January at Hartley from 12 – 2.30 they will be in the Library Café area offering a hot drink and a snack as a break for students who are studying for exams.
**The Library are now offering one-to-one appointments to support academic writing tasks. Appointments will last for half an hour and will be held Monday – Thursday, in the Hartley Library and at Library and Learning Commons on the Avenue Campus.**
Students can check availability, book an appointment and find a whole range of writing resources at http://library.soton.ac.uk/sash/academic-writing
There are also a number of bitesize tutorials available including sessions on the following topics: Academic Writing, Critical Thinking, Proof Reading, Dissertations
These can all be booked at http://library.soton.ac.uk/sash/workshops
The library also provide a range of academic skills resources across all subjects. Online resources are available via the website and the hub is staffed regularly for drop-in sessions as well as providing sign-up workshops.
This includes support for writing at any stage of the process and offers focused tutorials, workshops, and materials.
For guidance and advice about planning and writing dissertations and essays, referencing, study skills and research questions then visit the library's Academic Skills Hub:
Online: http://library.soton.ac.uk/sash
In person: **Extended opening hours of the Library Academic Skills Hub** over lunchtime: from 4th of March 2019 this will now be open 10.00 – 16.00 Monday to Friday.
Or book a place on a workshop: http://library.soton.ac.uk/sash/workshops/
Skills4StudyCampus
Is an online package of materials available through SASH (see above). Skills4StudyCampus is designed to help all students to develop the study skills needed to succeed at university.
The English for Academic Purposes (EAP) skills support programme offers academic language support to international students who need to develop their English language and academic literacy skills during their studies. You can find out more about this programme on their website.
Please note: some students may be required to attend additional English sessions as part of their course.
EAP offer a range of free academic language skills classes during semester 2 to all international and European Union students who study here (Academic writing skills , PGT Dissertation writing skills, PhD Thesis writing skills, critical thinking skills, Intercultural communication group skills and also Everyday English skills). These classes aim to develop communication, confidence and fluency .
More information about skills classes dates, times and locations can be found in in the semester 2 EAP skills timetable (pdf) below:
Sem 2 EAPskills Timetable FINALVERSION2019_20
The Southampton Language Opportunity provides you with the opportunity to study a language free of charge, alongside your degree programme. The scheme is funded by the Southampton Opportunity and managed by Modern Languages and Linguistics. The classes offer no formal qualification or provide any credit, but are perfect for those wanting to start a new language or polish up on previous skills. To take a step closer to becoming a transnational graduate, you can also take part in our new Intercultural Impact Award Scheme which is being launched this September, more information on this can be found below.